Another statistic – Farmer Henry Brown (77) of Uitkyk in Nelspruit passed away on the morning of 24 December 2019. He had been hospitalized since a brutal farm attack on him, his wife and son on their farm in the Uitkyk area, Nelspruit on 3 November. He was in a serious condition the whole time after he sustained a massive head injury during the attack and his heart stopped 2 times in a hospital in Nelspruit in the days after the brutal attack on him, his wife Martie (74) and son Tommy (53) on 3 November. The Browns have been farming on the farm for 53 years… growing food for the people who attacked them…
Four black men attacked them in their home on their farm outside Nelspruit on Sunday 3 November in the early morning hours. The attackers were armed with an axe and panga.
During the attack one terrorist was shot and found about 200 meters from the farm house. The deceased terrorist has since been identified as Pastor Thobela from a church in the Pienaar area. On November, 3 2019 another suspect in his 40's was arrested and appeared in court the following day. A police hunt is still underway for the other terrorists.
Henry Brown and his family were attacked by terrorists with "pangas", a type of machete, on November 3, 2019 on their farm in Mpumalanga South Africa. This type of machete became a notorious weapon: during the Mau Mau Uprising and in the Rwandan Genocide.
In South Africa particularly in the late 80's and early 90's, when the province of Natal was wracked by black on black conflict between Mandela's African National Congress and the Zulu Inkatha Freedom Party, pangas were a popular weapon used during black on black mass killings. Tens of thousands of africans were murdered by fellow africans in the few years of the handover of the country to blacks.
The elderly couple sustained serious head injuries in the attack and Tommy was shot in the leg and also sustained serious injuries to his head and jaw. He managed to shoot and kill the Pastor.
Andrew Brown, son of Hendry and Martie and Tommy's brother, said at the time that a part of Henry's skull had to be cut out to relieve swelling on the brain and he had to get a blood transfusion. Martie's skull was cracked during the attack but she was released after treatment and Tommy had to get operations to repair his facial injuries.
The family have no medical aid and are liable for the cost of the medical care themselves. Albert Greyvenstein of Bossies Community Justice (BCJ) says Henry Brown had been in a coma since the attack. He was treated at Kiaat Private Hospital in Nelspruit for serious head injuries and was later transferred to Rob Ferreira State Hospital, where Tommy his son, also injured in the attack was being treated.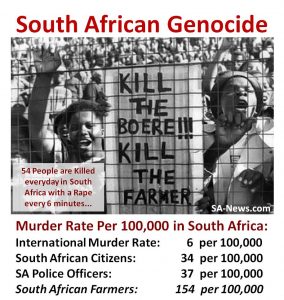 See also: Will Bantu Supremacy in South Africa Spark Another "Rwandan Genocide" Which Was Also Perpetrated by The Bantu?
---